The Battle of Great Savannah
August 20 or 21, 1780 at Clarendon County, South Carolina
(aka Battle of Nelson's Ferry (First)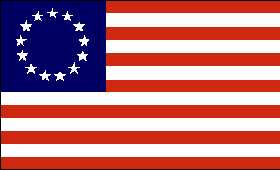 American Forces Commanded by
Col. Francis Marion
| | | | |
| --- | --- | --- | --- |
| Strength | Killed | Wounded | Missing / Captured |
| 150 | 1 | 1 | ? |
British Forces Commanded by
?
| | |
| --- | --- |
| Strength | Killed, Wounded & Missing / Captured |
| 38 | 22 |
Conclusion: American Victory
In August, Maj. Gen. Horatio Gates was asked by the Whigs of the Williamsburg district in South Sarolina to assign Col. Francis Marion as commander of the state's militia forces. Gates obliged and contacted Marion. He was promoted to brigadier general of the South Carolina State Troops. This meant that he had control over all of the militia in South Carolina.
On August 14, Marion left Rugley's Mill and headed to his new assignment. On his way to the Williamsburg District, Gates had left instructions for him to destroy boats along the Santee River, to assist in trapping and destroying whatever portion of the British army might escape the defeat that Gates expected to inflict around Camden.
On August 16, Marion had completed his first task, organizing a brigade.
On August 17, Marion sent Col. Peter Horrey and 4 dragoon companies to operate against the town of Georgetown. With the rest of his command, Marion started on a 60-mile march toward the Santee River.
On August 19, Marion learned of the gates defeat at the Battle of Camden. Marion continued his march without telling his men of the American defeat. That night, marion had received information that a large group of American prisoners from the Camden defeat were camped with a strong British guard on Thomas Sumter's abandoned plantation at Great Savannah. The plantation was 6 miles above Nelson's Ferry on the Santee River. Even though Marion's force was outnumbered, he prepared for a surprise attack at dawn.
On August 20, Col. Francis Marion, Major Hugh Horry (Col. Peter Horry was not present) and 150 men at Santee Swamp, moved towards Sumter's Plantation on the north side of Nelson's Ferry on the Santee River. Past midnight, they ambushed a convoy of prisoners taken at Camden, which had stopped for the night at a house along the road, liberating 147 Maryland and Delaware Continentals. The Loyalists had been mostly asleep with their arms stacked in front yard. Marion killed or captured 22 of the 38 man British force, which consisted of soldiers the 63rd and Prince of Wales Regiments, the latter under Capt. John Roberts, some loyalist militia and two Tory guides. Marion lost one killed, and one wounded. Of those released, 85 of the American prisoners refused to accept their liberation, and instead continued to Charleston as prisoners, either disgusted with their leadership at Camden or else simply weary of fighting. Marion then took the rest of those released, and the prisoners he had taken, towards Kingstree. On the 26th, he crossed Lynches River at Witherspoon's ferry. The Continentals who had come with him subsequently moved up towards Wilmington, and most were ultimately reunited with their units. Col. Otho Williams wrote Gov. John Rutledge on October 6th: "Of the 150 men retaken by Marion only about 60 rejoined their corps -- some were sick but most of them just departed."
Cornwallis in a letter to Clinton (cited by Bass) wrote:
"I therefore [fearing smallpox would break out among the American prisoners] sent them off as early as possible, by Divisions of 150 each, under the Escort of 38 men, about two thirds of which were composed of the 63rd and Prince of Wales Regiment, the rest Militia. In order to cover their March, altho' I did not apprehend much danger, I posted Major Wemyss with a part of the 63rd at the High Hills of Santee, and I sent Lieut. Tarleton with a detachment of the Legion & Lieut. Col. Hamilton's Corps & some Militia to Radcliffes Bridge on Linches Creek, which I thought would effectively awe the lower Country."
Marion, from Lynches Creek, on 27 August wrote to Col. Peter Horry:
"I am sorry to acquaint you that Gen. Gates is defeated with great loss; he was obliged to retreat to Charlotte, which obliges me also to retreat. You will without delay retreat with what men you can get, to Briton's [Britton's] neck, where I have encamped. It is necessary to obtain ammunition, arms and accoutrements, and as many horses as you can get; also stores from Georgetown, which you will send if possible up the river to Briton's neck. On the 20th inst. I attacked a guard of the 63d and Prince of Wales' regiment, with a number of tories, at the Great Savannah, near Nelson's ferry. Killed and took twenty-two regulars, and two tories prisoners, and retook one hundred and fifty continentals of the Maryland line; one waggon and a drum; one captain and a subaltern were also captured. Our loss is one killed, and Capt. [Lemuel] Benson is slightly wounded on the head."
Site Map
| Copyright © 2012
USwars.com
,