The Battle of Blue Savannah
August 4, 1780 (also given as 12 or 15 August) at Port's Ferry, Marion County, South Carolina
(aka Battle of Port's Ferry)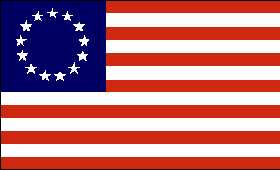 American Forces Commanded by
Lt. Col. Francis Marion
| | | | |
| --- | --- | --- | --- |
| Strength | Killed | Wounded | Missing / Captured |
| 53 | - | 4 | - |
British Forces Commanded by
Maj. Micajah Ganey
| | | |
| --- | --- | --- |
| Strength | Killed & Wounded | Missing / Captured |
| 250 | 30-50 | ? |
Conclusion: American Victory
After his successful victory at Great Savannah/Nelson's Ferry (First) on August 20, Lt. Col. Francis Marion and his 52-man force moved east to escape the British pursuit. When Marion was about 60 miles away, he made camp for his weary troops at Port Ferry, which was located on the Peedee River. To the northeast, Maj. Micajah Ganey learned that Marion had camped nearby. Maj. Micajah Ganey and Capt. Jesse Barfield who had 200 to 250 loyalists in their camp on the Little Pee Dee River. Ganey and Barfield themselves had intended to attack Marion the next day. Along with Ganey was a small detachment of the 63rd Regiment.
On September 4, Ganey formed up the local Tory militia and headed to the Americam camp. They started down the Peedee River early in the morning. Marion learned of this movement and decided to meet it head-on. He sent an advance guard, commanded by Maj. John James, located the 45-man Tory advance guard and routed the Tories. Ganey's own force had 45, 30 of these were killed or wounded, while Ganey and the rest of his force were dispersed.
Capt. Jesse Barfield with 200 loyalists (and possibly included in this number a small detachment of the 63rd Regiment) attempted to attack Marion, but was himself ambushed in the attempt near Blue Savannah on Britton's Neck where Marion had retreated after his attack on Ganey. Barfield's men fled into Little Pee Dee Swamp. Marion lost four men wounded, two horses killed. The next day, the 5th, about 60 volunteers joined Marion, bringing his force strength up to about 110. On the 7th, he then proceeded to fortify Port's Ferry, on the eastern bank of the Pee Dee, having with him for that purpose two small field pieces. At the time, Wemyss was still in the neighborhood of Kingstree with roughly 270 men, and awaiting reinforcements from Camden.
Marion's success broke the spirit of the local Tories east of the Peedee River. Marion's victory also encouraged 60 more local volunteers to join his outfit, thus doubling his total number of men.
William Dobein James:
"On the second or third day after his arrival, General Marion ordered his men to mount white cockades, to distinguish themselves from the tories, and crossed the Pedee, at Port's ferry, to disperse a large body of tories, under Major Ganey, stationed on Britton's neck, between great and little Pedee. He surprised them at dawn in the morning, killed one of their captains and several privates, and had two men wounded. Major James was detached at the head of a volunteer troop of horse, to attack

their horse; he came up with them, charged, and drove them before him. In this affair, Major James singled out Major Ganey, (as he supposed) as the object of his single attack. At his approach Ganey fled, and he pursued him closely, and nearly within the reach of his sword, for half a mile; when behind a thicket, he came upon a party of tories, who had rallied. Not at all intimidated, but with great presence of mind, Major James called out, "'Come on my boys! -- Here they are! -- Here they are!' And the whole body of tories broke again, and rushed into little Pedee swamp.

Another party of tories lay higher up the river, under the command of Capt. Barefield; who had been a soldier in one of the South Carolina regiments. These stood to their ranks, so well, and appeared to be so resolute, that Gen. Marion did not wish to expose his men, by an attack on equal terms; he therefore feigned a retreat, and led them into an ambuscade, near the Blue Savannah, where they were defeated. This was the first manoeuvre of the kind, for which he afterwards became so conspicuous."
Site Map
| Copyright © 2012
USwars.com
,