The Battle of Black Mingo Creek
September 29, 1780 at Black Mingo Creek, Georgetown and Williamsburg County border, South Carolina
(aka Skirmish at Shepherd's Ferry)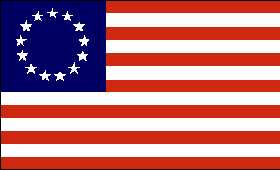 American Forces Commanded by
Lt. Col. Francis Marion
| | | | |
| --- | --- | --- | --- |
| Strength | Killed | Wounded | Missing / Captured |
| 50+ | 2 | 8 | ? |
British Forces Commanded by
Col. John C. Baal
| | | |
| --- | --- | --- |
| Strength | Killed | Wounded, Missing/Captured |
| 50+ | 3 | 13 |
Conclusion: American Victory
The British had completed a base at Georgetown in September and decided to establish an outpost nearby. They sent Col. John C. Ball with over 150 loyalist militia to a position near Shepard's Ferry, which was around 20 miles from Georgetown. Their mission was to serve as an advance outpost and to discourage any Americans around Williamsburg from trying anything. After discovering this British outpost, Lt. Col. Francis Marion led a group of Americans for a surprise attack. There they camped around Shepherd's ferry on the south side of Black Mingo creek.
On September 29, Marion left Kingston and rode with his men to Port's Ferry. From there they moved to Witherspoon's Ferry on Lynches, and, after a 30 mile ride, were joined by Major John James, and 10 men, and some additional militia. According to some authorities had about 150 total with him. That evening just before midnight, having gone another 12 miles, he stealthily approached Col. John Coming Ball's camp at Black Mingo. A Tory sentinel heard Marion's horses crossing Willtown Bridge, which was a mile north of the outpost. Ball deployed his force in anticipation of the American attack, who was ready with a volley that wounded or killed a number of Marion's officers and men, who, just prior to the attack had dismounted.
Marion discovered that the elememt of surprise was lost and decided to go ahead with his attack. He ordered a dismounted attack, commanded by Maj. Hugh Horrey, on the Tory right flank. Marion also sent a small group of his men, commanded by Capt. Thomas Waites, to attack the Tory center located at Dollard's Tavern. Finally, Marion sent a small mounted group to move east of the tavern. The rest of the Americans were held in reserve with Marion.
Ball's force formed up in the adjacent field adjacent to the tavern. Marion had expected Horry's force to use the tavern to fight from, but instead, Horrey advanced his force across the field straight towards Ball's position. The Tories opened up on the Americans when they were within 30 yards from them. Soon, the Tories began a retreat back towards the tavern. When Waites group had skirted the tavern and turned the Tory right flank, the Tories broke formation and scattered. Marion and his men had completed the route of the Tory force. The entire fight only lasted about 15 minutes. Compared to other battles, this was more of a small skirmish than a battle.
The two opposing force combined did not number much over 100 men. Marion had two men killed, one them a Captain George Logan, and six wounded. Captain Henry Mouzon and Lieutenant John Scott who were so badly hurt they had to retire from service. Ball lost three dead and thirteen wounded or prisoners, and the rest of his force was effectively dispersed. Marion captured a very useful supply of horses, gun, ammunition and other baggage, and five of the prisoners joined Marion's force. One of the horse's taken was Ball's own, a very fine mount, which Marion took for himself and named "Ball." Col. Ball himself retired from serving with the British not long afterward. Many of Marion's force dispersed after the engagement to see to business at home. Marion then with Col. Giles, Major Hugh Horry, Major King, Captain Waites, Captain Milton, and about twelve more, made their way later that morning (the 29th), by way of Britton's Ferry, to Amis' Mill, where they remained camped for about two weeks. Some sources say Marion lost, Ball 20, others give Marion's losses as 50, Ball's as 60.
Site Map
| Copyright © 2012
USwars.com
,