The Battle of Orangeburgh
July 8-10, 1781 at Orangeburgh, South Carolina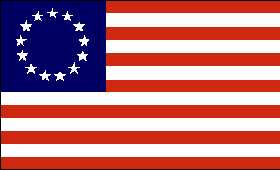 AMERICAN FORCES
Commanded by: ?
Strength: ?
Casualties: ?
BRITISH FORCES
Commanded by: ?
Strength: ?
Casualties: ?
CONCLUSION
Conclusion: American Victory
Rawdon's and Stewart's forces united at Orangeburg. Their combined force totaled some 1,200 to 1,500 men. Rawdon had made night marches due to the extreme heat. Nonetheless, some 50 of his men died from heat exhaustion. On July 6th, Marion had circled eastward of Rawdon's army with 400 horsemen. He tried, on the 7th, to ambush Stewart, who had (according to Marion) 300 infantry and 50 cavalry, but Stewart took a different road than expected and got through to Orangeburg safely. A detachment under Col. Peter Horry did, however, capture 3 sutlers' wagons containing rum and wine. For 2 days, the Patriots tried to lure the British out of the town, without success.
Tarleton: "Lord Rawdon was joined on the day after his arrival at Orangeburgh by Colonel Stuart, with his own regiment; but was greatly disappointed at finding that he was unaccompanied by a body of cavalry which had been promised, and which were so particularly wanted."
On 12 July, With most of the major South Carolina forces with him, including those of Sumter and Marion, Greene reached Turkey Hill Creek a small branch of the North Edisto about four miles above Orangeburg. Marion and Sumter accompanying him, and escorted by Lee and Washington's dragoons, he then went to personally examine British ground at Orangeburg. Rawdon was deployed around brick courthouse, one wing resting against the jail and the other against the bridge over the Edisto. Greene therefore decided not to attack. However, in his pension statement, Richard Bearden, of Spartanburg, S.C., states, "Some Canonading passed between the armies." Greene remained at Turkey Hill until 6 pm, and then marched to Myddleton's plantation where he held council of war among his generals and higher-ranking officers. From this located the army and its detachments subsequently separated.
Kirkwood: "12th Marched to the Enemy Lines, and within 4 miles of Orangeburg (sic) sent out parties to draw them out; but all to no purpose, Col. Cruger being within one day's march of Lord Rodden, Genl. Green thought it prudent to withdraw his army, and march towards McCords Ferry....15[miles]"
Site Map
| Copyright © 2012
USwars.com
,